VS Code Extension¶
Note
WIP. Thanks for any testing and feedback.
Status: Basically functional.
Some implemented features:
Complete mission validation, with highlight of errors
Some autocompletions (preliminary)
Hover with information on some constructs
Go to definition (for some constructs)
Prerequisites¶
You will need the TethysL CLI installed on your system, in particular, with the tethysl program findable through the $PATH environment variable. See the CLI section for instructions. The TethysL CLI includes a subcommand to run the TethysL LSP server, which is invoked by this extension.
Note
Perhaps we should also offer a more self-contained extension. At the moment, however, the idea is that the CLI will also be used on the target system for other various tasks, including its use in makefiles for tethysl-to-xml translation as part of preparations prior to vehicle deployments.
Using this extension¶
With the prerequisites in place (i.e., java and tethysl in your $PATH), just open a directory that contains your *.tethysl mission files in VSCode.
VSCode may automatically recognize the .tethysl file extension and offer you to install this extension from the VSCode marketplace. If not, you can use the Marketplace option and enter "tethysl" in the search field: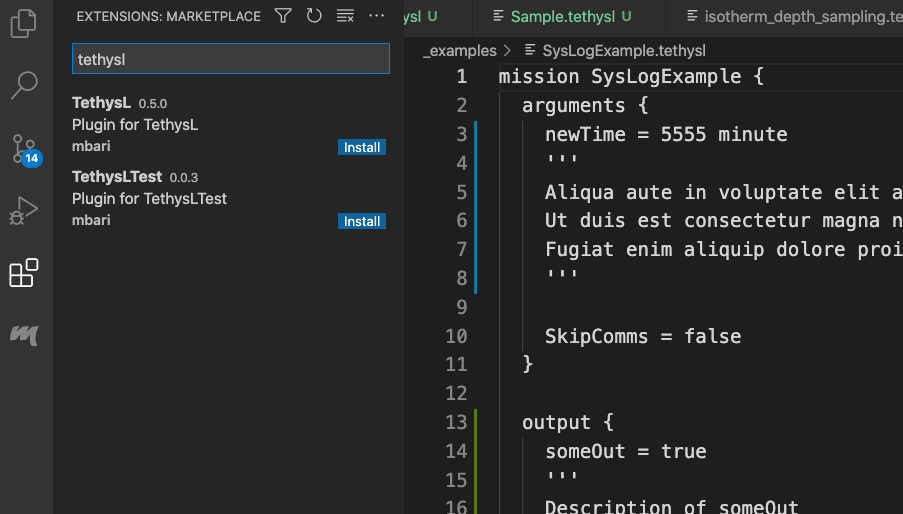 Pick the latest version available, review the entry, click "Install", and enjoy.
Here's a screencast demonstrating some features initially implemented.